A collection of recent makes. Most of these require either grading between multiple sizes, or grading beyond the largest size offered on the pattern. There is even one self drafted pattern done using drape methods.
Self drafted shirt pattern, using draping method, with the help of David Coffin's sew along on facebook. This first is made in a lovely rich brown lightweight linen. The second is made in medium weight linen, which is buttery soft in both color and comfort.
This is my Burda 6714 10 gore skirt, which has a lovely drape. I modified slightly by skipping the elastic and putting in a fixed waist. Done in a swishy light washable wool. Love it! Displayed on my dress form.
Petite Plus Patterns, Flared Skirts by Kathleen Cheetham. This required grading up a bit beyond the largest size waist and hip measurements offered by the pattern. I love the look, and feel of this skirt, and the pockets are both functional and a flattering design choice.
Tina Givens, Maria Tunic which required grading XL bust to 2X waist and hips. I adore Tina Givens designs, and lagenlok apparel. This is my latest attempt. I was swimming in my first attempt, but managed to refine it. So comfortable and flattering in a soft medium weight linen. The bell sleeves make me feel feminine and dressy.
Sure Fit Designs – pants pattern, with fly front, side pockets, and fitted waist band. Pants have been a struggle for me. I have a challenging crotch curve, with large abdomin and large buttocks. I finally have comfortable pants for both sitting and standing. These are made in a soft gray brushed cotton twill with elastic in back waistband for added comfort.
Callie's Nightgown from Everything your Momma Made. This is a fast and easy make. I tweaked pattern a bit, by closing up the neckline. I also had to draft 1x bust to 3x sleeves and waist and hips. So dreamy to sleep in on cold winter nights.
Daisy tunic from Style Arc. I tweaked the neck and shoulders for a better fit. I made the sleeveless version in a cool light blue cotton perfect for hot summer days. The second make was long sleeve in pink medium weight linen, perfect over pair of leggings.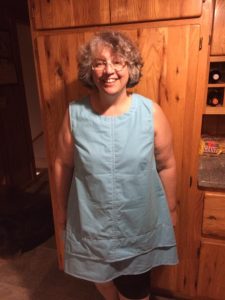 Chamelon Weekender Dress by Hot Patterns. This jimper can be worn solo, or with a little something under making it multi-seasonal. I love wearing this on errand days.