I left the cold wintry northeast for the slightly more mild northwest. Destination, Seattle Washington, Puyallup Washington, Mt. Rainier, and Portland, Oregon.
First of all, like many of you, I have no fabric stores locally that offer a wide selection of quality garment or fashion fabrics, and those that do offer a limited selection, and charge a premium. So, the thought of attending a large sewing expo was thrilling. I had attended the Worcester, Ma expo which paled in comparison to the Puyallup sew expo. The parking was very accessible. The crowds were excited but pleasant. The vendors were excellent, splitting evenly between quilting and general sewing. I attended a couple of the lectures. Organization and facilities were good. I spent a long day, covering all the vendors twice. I did the expo in one long day. Highlight of the show was when Coni Crowford personally measured my high bust, which I found out was 2″ smaller than I thought. I bought my first regular size pattern in decades (non plus sized). Hurrah to me and my new healthy lifestyle.
We then headed to Mt. Rainier for a stay at National Park Inn at the Longmire entrance. First day was gray and snowy with no views of peaks or high country. The weather forecast was not promising, so we had planned an early departure the next morning. But, fortune smiled upon us, and the sun shined and for brief times we could see the mountain top. So awesome. We traveled up to Paradise and rented snowshoes, and did a 1.3 mile trail, with amazing views of Mt. Rainier. Having not packed for snowshoeing we layered on the clothes we had. This was also the debut of my new twill pants, with two pairs of leggings layered underneath for warmth. We looked like vagabonds, but it was a blast. We dined at Copper Creek Inn Restaurant on the outside of park, a bit expensive but worth every penny, as the food and service were both great.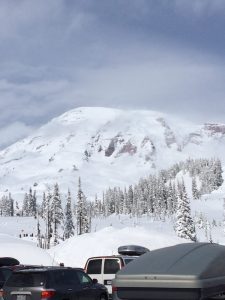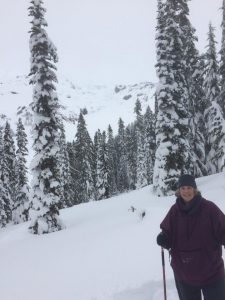 We then headed to Portland, Oregon. It was a long boring drive. We saw way too much of Route 5 this trip. We visited three places in Portland. The first stop was Fabric Depot. The entire store was on sale for 25% off. Wonderful selection of quilting fabrics, and fair selection of fashion fabrics. I was a bit shell shocked by prices of the fabric, and many of the offerings were dry clean only, or hand wash. If I am going to pay $$$ for fabric for a garment, I want to be confident that it will hold together. I ended up with some really funky denim. I also bought some sashiko thread and zippers for future pants.
The second stop was my all time favorite. The Mill End store in Milwaukie, Oregon. Absolutely fabulous. They had a good selection of tencel, ponte knit, scuba knit, and linen. The linen was 25% off already great prices. I left there with a large amount of fabric, and then needed to purchase another suitcase. A quick stop at Goodwill, and we found a nice suitcase for my fabric purchases. Luckily, Southwest allows up to two bags per person. That was much cheaper than mailing all my fabric purchases home. Just a note, the Goodwill stores out west are much much cleaner and well organized than any I have visited in the northeast, and I am regular thrift shopper.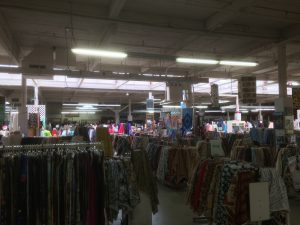 The Pendleton wool outlet is very close to Mill End store, and worth a stop. I picked up a few small items but in general, there was not much to tempt me. Living just 30 minutes from the Dorr Mill Store has spoiled me for great wool selection and prices. This was my last stop of the day, and I was exhausted.
The final day we stopped by Pacific Fabric in Seattle. I bought some more funky denim, and a lovely shirting from their bargain table. At some point I went to ask my husband's opinion on a fabric, only, to find I had approached a complete stranger instead. At that same moment, my husband was unknowingly snapping a photo of the store. How embarrassing! But the gentleman said he liked the fabric, so I bought it.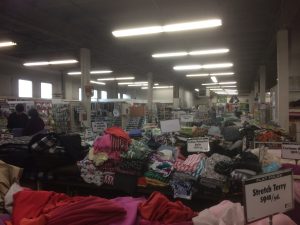 I have much work ahead of me and I am looking forward to every moment. Total yardage purchased just under 40 yards. Yikes!